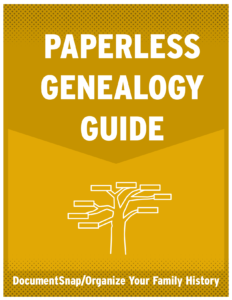 I partnered with Brooks Duncan of DocumentSnap, an expert in all things paperless, to create the Paperless Genealogy Guide. This downloadable pdf will help you get started in your journey to a paperless genealogy lifestyle. We don't tell you to get rid of your paper, but we do help you get to the point where you can access your genealogy research easily, from anywhere.
If you like the idea of storing your genealogy documents digitally but are you don't know the right way to do it, this guide can help. If you're  overwhelmed by the idea of going paperless, this guide will help. If you'd like ideas on file-naming conventions and file structures, this guide can help. If you're worried about the safety of storing your electronic documents, this guide can help.
My own transition to going paperless was fairly gradual. If I'd had this guide at my disposal, I probably could have made the transition more quickly and enjoyed the benefits of a paperless genealogy lifestyle sooner.
I can easily see what documents I have for each of my ancestors. I don't have papers hanging around waiting to be filed. I no longer lug paper around when I take a genealogy research trip. Sound good to you? Let the Paperless Genealogy Guide help. The guide is $9 and available from this link on DocumentSnap.