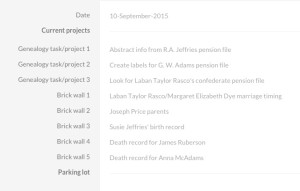 Since I heard Josh Taylor speak in early August, I've been really trying to keep a laser focus on my short research to-do list in an effort to keep from being distracted. My 30 x 30 challenge helped a lot. Since I didn't give myself the option of not researching during that time, it was very helpful to just go to the list (which had me either transcribing one ancestor's Civil War pension file or working on citations for another).
But here's the thing: When my 30-day challenge was over, I took a little break, because processing those pension files started to feel a little like drudgery. And I was reluctant to go back to it. It made me realize that I need to change up the research from time to time if I'm going to do it on a regular basis.
As I pondered that, I saw the error of my ways. I took Josh Taylor's advice to have one to three projects on my to-do list. (I had two.) But I skipped the part about also having three to five extended projects (brick walls) that I can dabble in when I need to mix it up.
So here's what I'm going to do to keep my research interesting and, I hope, to get back to daily research: I'm adding one main project to my list along with five extended projects/problems. That's my list pictured above.
I have a leisurely weekend ahead, so I'm hoping to enjoy doing some genealogy research. My revamped list will help!