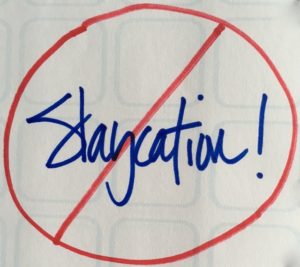 Week before last, I blogged at my excitement over the prospect taking this week off to devote to genealogy research. You know what they say about the best laid plans.
I ended up having to schedule clients Thursday and Friday and yesterday was occupied with details surrounding moving back into our newly renovated kitchen (hooray!). So my staycation shrunk to two days.
My first thought was to abandon the idea and try to find another week to take off. But then I realized that (a) that week would probably never come and (b) I don't need huge blocks of time to accomplish research. As I documented during my first 30 x 30 challenge, I can get a whole lot done by doing just a little every day.
I have other business- and kitchen-related things I need to do today and tomorrow, so I'm going to commit to grabbing at least two hours each day to do research. That's four hours more than I did last week.
I have the week-long NGS research trip to the Allen County Public Library to look forward to in August. So I know I'll get that intensive research time I crave. But in the meantime, I'm going to try to devote at least four hours a week during the eight weeks leading up the trip–taking time where I can find it–to get some research done.
This is an important reminder that, as appealing as a staycation is,  I don't need a big chunk of time to get work done!