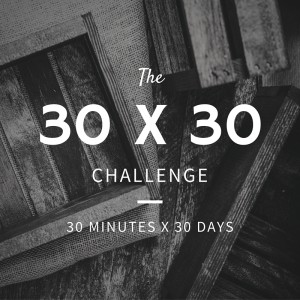 Happy new year! I don't know about you, but I love starting new habits at the beginning of the month. The beginning of the year is even better! So now seems like a great time to start a new 30 x 30 challenge.
The original intent of the challenge is to challenge yourself to doing 30 minutes of genealogy research for 30 days in a row. I've done probably a half dozen of these challenges over the last 2.5 years and the August 2017 one finally stuck. I've done research every single day since August 1.
The challenge doesn't have to be for 30 minutes of  research. Perhaps it's 30 minutes of genealogy organizing or scanning or whittling away at a backlog. Whatever type of genealogy-related work you'd like to do for 30 minutes a day is perfect for this challenge.
For me, I have a lot going on, so I'm sticking with the original 30 minutes of research. I want to set myself up for success.
Please comment below if you'd like to take on the challenge and let us know what you'll be working on.