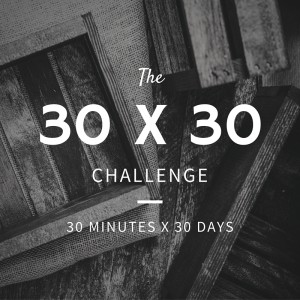 How'd you like to join me in committing to doing 30 minutes of genealogy research for the 30 days of November? I think November is a particularly great month for a 30 x 30 challenge, at least for those of us in the United States, since it's the month of the Thanksgiving holiday, when many families get together. What better time to do some research in anticipation of asking questions of family members or sharing findings with them?
I've been doing periodic 30 x 30 challenges since August 2015. They've really helped me stay focused on my research. I love the public accountability and support. And I've learned they help create a habit of daily research. This one's for you, not for me, because–believe it or not–I've been researching daily since my August 2017 challenge! That's three months in a row without missing a day. I feel like it's become a wonderful habit; I absolutely love starting my day with genealogy research.
I'd love to support you in a 30 x 30 challenge this month so that you can experience the joy of creating this habit. Who wants to join me?
Some time in the next couple of weeks, I'll write a post about the benefits of brief, daily research…it's really quite different from the sporadic, longer sessions I used to do in the past.
Just post a comment if you'd like to join the challenge!