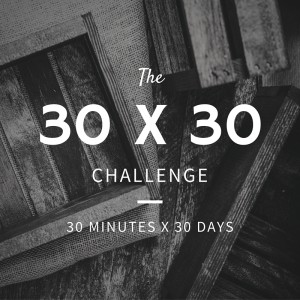 The February 30 x 30 challenge is over (or almost over depending on when you started). How did it go? Did you work on your goal every day? Did you find that the challenge helped keep you on task?
I did pretty well. My plan was to work every day, even if it wasn't for 30 minutes, and I was going focus on going through my source documents, making sure that I had plucked all the information from each document, attached it to the source record and properly cited it. I hoped to get through 30 documents.
It didn't quite work out that way. I was able to work every day until February 25. That's when RootsTech started and when I went off the rails of my 30 x 30 challenge. But I was okay with that, since with RootsTech I was at least thinking about genealogy. I thought it would be quick to go through my source documentation but what ended up happening was that the source documents sparked more questions (typically about collateral relatives who early on I wasn't researching). So I pursued more information, rather than putting aside these bright shiny objects for later. The result? I had an enjoyable 26 days of daily research. But I verified only 10 sources! (Sources 91 through 100.) I still call it a successful month, though.
I hope you were even more successful than me. If you participated in the challenge, please let us know in the comments how you did!