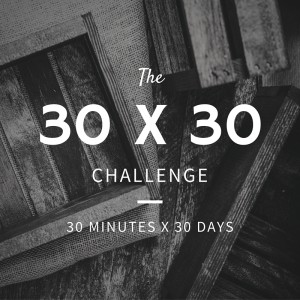 Happy new year! I just love turning a calendar page to a new year. It feels particularly good to say goodbye to 2020 and all its trials and tribulations. But before we do, let's talk about the December 2020 30 x 30 challenge. How did it go for you?
December is a tough month for a challenge, I know, because there are often so many holiday- and end-of-the-year-related activities. So bravo to those of you who were up for a challenge. I did pretty well the first half of the month, but slipped a little the second half. Here's my excuse: After 21 years with our old bed, my husband and I finally bought a new one. We went from a queen- to a king-sized bed. What does this have to do with anything? The need to wedge that large bed into our small bedroom produced a cascading array of tasks that kept me very busy! But it was worth it. The new, fancy Sleep Number bed is fantastic.
In any case, I think I researched only 23 of the 30 days. But I'm still glad for the challenge because I know I would not have been able to accomplish that much research without it.
It's a new year, so I'll be creating a fresh research log and working on my research goals for 2021. I'll probably have another 30 x 30 challenge in February. (Though I guess it will be a 30 x 28 challenge.)
Please share: How was this month's challenge for you? Did you find that December was a tough month to fit in research or was that not relevant? I'd love to hear from you!
P.S. Thanks very much to those of you who have already taken advantage of my End-of-the-Year Sale on Orderly Roots guides. If you haven't bought the guides yet (but want to), you have until Sunday evening to get all three for the price of one!