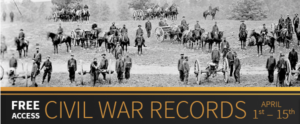 To commemorate the start of the Civil War in 1861, Fold3 is making its Civil War collection available at no cost until April 15. The Civil War collection has 50 titles and 91 million records. Click here to learn more about it and get started.
Included in the collection are both Union and Confederate records. Titles available at no cost until the 15th include:
Civil War "Widow's Pension" Files
Civil War Pensions Index
Confederate Service Records
Confederate Amnesty Papers
Southern Claims Commissions
As Fold3 points out in in its blog post about the free access, even if you can't find your own ancestor at Fold3 you can use the collection to learn more about what his service might have been like.
If you don't already subscribe to Fold3 and you have Civil War ancestors, this is a great opportunity to check out their plentiful holdings!