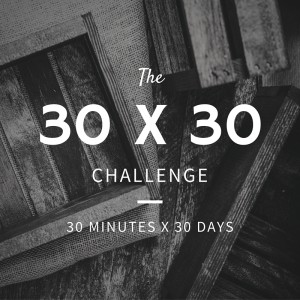 My November 30 x 30 challenge ended yesterday. (It went from November 2 to December 1.) During that time, I pledged to work at least 30 minutes per day for 30 days.
I ended up missing three days. My brother has been visiting from Australia since November 21 and his visit disrupted my routine enough that I forgot to do research a couple of times. (But I researched more than 30 minutes a number of those days, so I got my time in.) I learned earlier this year that the best time for me to work on genealogy is first thing in the morning. That strategy allowed me to do research while my brother slept in the morning.
With the exception of a couple of days, November's work was all about the Civil War pension file of my great great grandfather, George W. Adams. I have now transcribed 26 of the 138 documents in the file, a drop in the bucket. But this exercise has confirmed for me that slow and steady wins the race. I plan to continue with my daily efforts in hopes that I can finish transcribing and abstracting the file before too much time has passed.
The file contains some details about my great great grandfather's second wife and one day that sent me galloping off in search of more information about her. But I reminded myself of my moratorium on bringing in new information and the next day I was back to the task at hand.
I can imagine that some people might find this approach boring, but I'm finding it easy and reassuring to know what I'm going to be working on each day and to make progress each and every day.
Next week I travel to Washington state to visit my family so it remains to be seen whether I'll be able to keep up my daily effort. But I still have the advantage of being an early riser, so I remain hopeful.
If you participated in the challenge, how did you do?