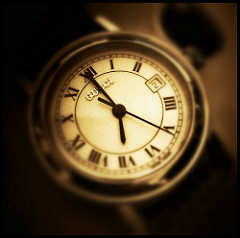 I've been frustrated this year by the small amount of time I've spent researching. I do love it, but between a new puppy, a kitchen renovation and a busy business, I just wasn't making the time for it. It felt like the day just wasn't long enough to squeeze it in.
One thing I've discovered is that if I get out of the swing of researching, it's harder for me to jump back in. When I research infrequently, I don't have a burning desire to solve a particular mystery. Then it's hard to get started. So for me regular research, even just a few minutes at a time, is really beneficial.
In the last two weeks, I've been doing a half hour (or even 15 minutes) of research first thing in the morning. It happens before email, before blogging, before Facebook. I'll set a timer and start on it while I'm drinking my coffee. I stop when the timer goes off. It's a fabulous way to start the day–I feel I've accomplished something and I get to work on something I enjoy. Best of all, I've stopped beating myself up over not researching.
I'm helped by the fact that my current project is checking my source documentation, which lends itself to short bursts of activity. But if I weren't doing that, I could still easily jump into my research, because it's top of mind (since I'm working on it daily).
We'll see how long this lasts, but until life gets crazy again (which it inevitably will), I think this one little adjustment to my schedule will reap great benefits.
Photo by Thomas Ulrich via Flickr. Used under Creative Commons License.