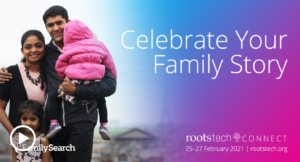 Have you heard the news? RootsTech has announced that next year's conference–rebranded RootsTech Connect for 2021–will be entirely virtual. To be held February 25 to 27, 2021, has a wonderful global vibe. Perhaps the best part in terms of inclusivity? It will be free of charge! You can read details of the announcement here on the RootsTech website. And you can register on the spot with a little bot in the right corner of the screen. It took me less than a minute to register.
So what does this virtual conference look like? The organizers say it will be unlike any virtual genealogy conference.
RootsTech Connect is different than any other virtual event—no boring speakers or falling asleep at your computer screen. Rather, enjoy dozens of inspirational learning sessions, uplifting messages from celebrity keynote speakers, and hands-on activities to help you celebrate your heritage all year long.
I'm intrigued, especially by the hands-on activities! I know the capabilities of the smart people who organize this conference and I am confident they can pull it off. I'm delighted that content will be available for viewing for a year after the conference. (I don't know if that's selected content, as usual, or if it will be all the content.)
This multi-cultural video, on the RootsTech landing page, made me feel great.
Since everything is so uncertain right now in this world of COVID, I am so happy to know what's happening with RootsTech. It's on my calendar and I can't wait to attend! How about you?  Have you/will you sign up?