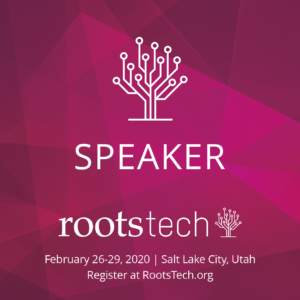 Attending RootsTech isn't possible for everyone, of course. (Though it's so large sometimes it feels like everyone and his brother is there.) If you can't attend in person you can purchase a virtual pass that allows you to watch a pre-selected group of 30 classes from the comfort of your home. The cost is $129 for the virtual pass alone or $79 if purchased as an add-on to an in-person registration. You have a year to view the recordings.
To see the line up of classes being offered in the virtual pass (it looks to me like a great lineup), check out the Virtual Pass page on the RootsTech website. You can also purchase your virtual pass on that page.
In the past some classes have been live streamed and that might well be the case this year. You can view past live streamed sessions now on the RootsTech Video Archive page.
I'm excited for RootsTech this year and am looking forward to presenting "The Imperfect Genealogist" there. If you haven't already, please let me know in the comments if you'll be attending. And if you're going and haven't downloaded the app yet, it is available!