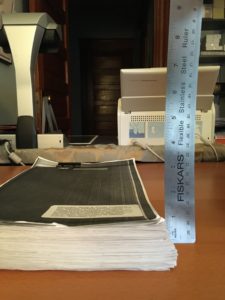 As I plug away at transcribing my 2nd great grandfather's 137-document pension file, I keep thinking to myself how valuable it is that I'm doing this one small document at a time. When I started, the idea of transcribing this vast file seemed insurmountable. The printed sheaf of papers that I received from the National Archives is nearly an inch tall!
But rather than think about the enormity of transcribing the whole file, I'm just looking at the next document. Then the one after that. I'm trying to work on it at least 30 minutes daily (even after the succcessful end of my latest 30 x 30 challenge two weeks ago, I've only missed a couple of days) and slowly but surely I'm getting through it. Today, I transcribed documents 47 and 48. Before long, I'll be halfway done.
Once or twice I've questioned the value of this exercise. But as soon as I do that, I discover something I didn't notice on first reading, when I wasn't transcribing. There's no doubt in my mind that transcribing these pension documents is a valuable use of my time.
So here's my big takeaway, which of course can be applied to many aspects of my life. When I'm facing a large, seemingly insurmountable project, I can get past overwhelm and eventually complete it if I:
Break it down into small tasks
Do one task at a time
Work on it very regularly, for a small period of time
This strategy is working well on the pension file. I can't wait to get all the way to the end and see what discoveries has in store for me!
A commenter asked for the steps on requesting a Civil War pension file.  Here they are:
Go to this page on the National Archives website.
Select NATF 85D: Federal Military Pension Application – Civil War and Later Complete File
Select delivery format (I selected paper)
Click Add to Cart
Login or register
Fill out form with your ancestor's name, military unit and other information (if you don't have that, check out Ancestry.com or Fold3.com to get it)
Pay $80 online
Wait for your packet!