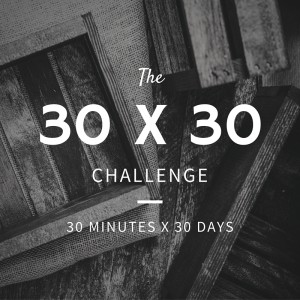 It's the last day of the month. Somehow, during this pandemic, one month feels like two months. So this 30 x 30 challenge feels especially long. I'm proud to say that I did actually do genealogy research every day this month except one. I can't remember what happened the day I didn't manage to do any–I think it was a day I worked with an organizing client. But I feel very proud to have accomplished 29 out of 30 days of research. I didn't do 30 minutes every day, but definitely averaged at least 30 minutes a day.
The challenge put genealogy research at the top of my priority list and for that I'm grateful. I'm so grateful, in fact, that I'll probably have another one in just a couple of months. Keep your eye out for an August 2020 30 x 30 challenge. (I'm curious to see if I keep it up in July without the challenge.)
Until then, though, please let me know in the comments how the challenge went for you, if you participated. Did you manage to research every day? Did you work on what you expected? And did you find more frequent research to be more beneficial?
I can't wait to hear. I'm grateful for those of you who took up the challenge!