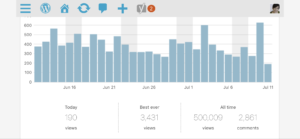 On Wednesday, July 11, 2018, I reached a milestone on this blog that I'd been keeping an eye out for for the last couple of months. I hit a half million page views since I started the blog on June 14, 2012. That blows my mind. I was  hoping to catch the moment when the ticker reached 500,000 but I was with a client and just missed it. So the photo above shows you the moment I reached 500,009. (Two days later, as I type this, I'm at 500,688.)
I am so grateful for you, the people who read this blog. It's been really gratifying getting to know you and I am honored and humbled that people read regularly. I'm also so happy that people comment. On my other blog comments are quite rare.
I try to blog here twice a week. If there are specific topics surrounding genealogy and organizing that you'd like me to try to cover, please don't hesitate to tell me.
Thank you!!