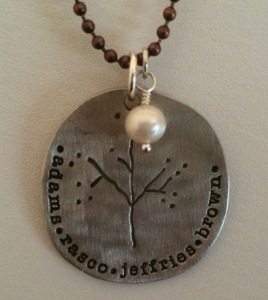 I'm not a big gift giver and I when I do give gifts, I prefer to give experiences, rather than stuff. (I see how hard it is for my clients to let go of items that were gifts and I don't want to burden anyone with that.)
But I dearly love one piece of jewelry that I bought myself as a gift. It's the Original Family Tree Necklace from Lisa Leonard Designs. She creates custom, hand-stamped jewelry. This necklace is meant for moms, I think, to include the first names of their children. But I chose to have my grandparents' surnames printed on the necklace.
I think it's pretty and when I wear it, I feel connected to my family. If you ever see me at a genealogy conference, you'll probably see it hanging around my neck.
As the gift-giving season approaches, I thought I'd mention it now in case you have a genealogy lover on your gift list. It also makes a good gift to give yourself!
When I bought mine (pictured here), it was being offered in pewter. Now it's in sterling silver (and therefore more expensive). Lisa Leonard offers discounts all the time. In fact as I write this, there's a 30 percent discount available, which brings the price down to $90 for the shorter chains. I love mine so much I just had to share!