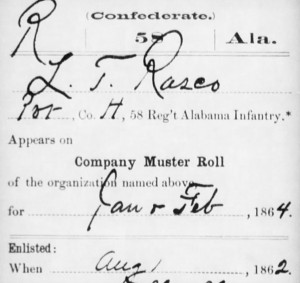 Today I had the good fortune to find the Civil War records for my great-great-grandfather (my paternal grandmother's paternal grandfather), Laban Taylor Rasco. I initially found him listed in Alabama, Census of Confederate Soldiers, a document I found on Ancestry.com. That listed his company and regiment (he fought for the Confederate Army), which allowed me to easily find a lot of documents at Fold3.com.
He's not the first Civil War ancestor for whom I've found documents, but he is the first on the Confederate side. Through the documents, I learned that he was injured in the Battle of Chickamauga, Georgie in September 1863 and that he was a held as a prisoner of war in a Union prison camp in Talladega, Alabama, and paroled on June 3, 1865, after the war had ended.
Of course, I'm dazzled and amazed that in a matter of a few minutes I can uncover and read these documents via the miracles of scanning and the internet.
But I'm also really amazed by the recordkeeping that took place in this war. When you consider that most forms were filled out by hand and that thousands upon thousands of soldiers fought, it's remarkable. My great great grandfather was a mere private and today I saw 10 different documents.
I saw the movie Lincoln this weekend (and heartily recommend it) and it brought to life the absence of technology of that era. I am so impressed with the organizational skills that allowed these records to be kept and retained. And, of course, it's very impressive that they continue to be well organized and accessible.