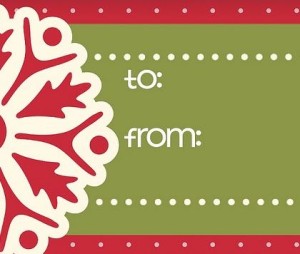 As a professional organizer, I frequently help clients declutter their physical possessions. Over and over again I've seen how difficult it is for most folks to let go of an item they'd received as a gift, even if they don't use or love it.
This realization has changed the way I give gifts. As I've written repeatedly on my organizing blog, I think it's much kinder to give a gift that doesn't have a chance to turn into clutter. So I find myself giving these types of gifts:
digital gifts (iTunes gift certificate, for example)
services (gift certificate for a massage or a float)
ephemeral goods (like edibles and cut flowers) and
experiences (an outing or meal together)
If you have any genealogy enthusiasts on your list, you're in luck. There are all sorts of opportunities to give clutter-free gifts to those folks. Here are some ideas.
A subscription to an online service, like Ancestry, Fold3 or MyHeritage
A membership in a local society or other association, like the NGS or the Southern California Genealogy Society (so they can have access to the webinar archives, my pick for deal of the century)
A gift certificate to work with a professional genealogist
A handwriting analysis of one of their ancestors
One or more of my Orderly Roots guides (you could download it for them and email it, or contact me for a special code they can use to download a guide you pay for)
Your help with their genealogy (maybe offer to spend a couple of hours on one of their brick walls)
Your help decluttering or organizing their research space
A trip together to a cemetery or research library
Registration for a genealogy conference
A donation in their name to a worthy genealogy cause (like Preserve the Pensions or their favorite genealogy society)
If you do want to give a physical item, be sure it's useful. You could consider a Flip-Pal mobile scanner or a ShotBox portable photo light box.
Before you buy anything, check out the Genealogy Bargains area of the Geneabloggers website to see if there are any special deals to be found!
Illustration by Traci Gardner via Flickr. Used under Creative Commons License.