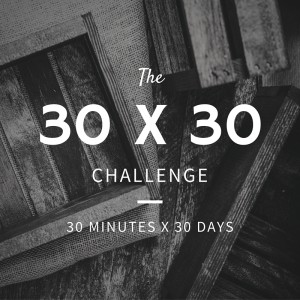 Sunday marks the half-way point in our February 30 x 30 challenge, but I though I'd start the check-in a little early. If you are participating in this month's 30 x 30 challenge, now's your chance to give us an update in the comments.
I've had a good month so far. I've researched every day. (I started on January 30, actually, so I'd get 30 days in by the end of February.) Typically, my goal for a 30 x 30 challenge is to do 30 minutes of genealogy research for 30 days in a row. But this time I decided to cut myself some slack. Instead of 30 minutes a day, my goal is to get through 30 source citations in my source documentation checklist. I'm going through my sources in numerical order and checking to make sure that all the information I now put into a source is there (spoiler alert: so far all the source records have lacked information). Also, I'm looking at each source record to see whether I gleaned all the possible information I could from it (not usually). When I set the goal of going through 30 source citations in 30 days I figured that would be very easy to achieve.
It's not exactly going as planned. I started this 30 x 30 by checking Source 91. Now, 14 days later, I am on Source 98. For a number of the sources, I needed to do some further research in order to verify the information. And you know what? That's just fine with me. In my research log each day, I've written down the next steps I need to do before I'm comfortable moving on to the next source. Since I'm looking at early sources (documents downloaded in 2012 when I was quite new to serious genealogical research), the going is slower. It should pick up when I get to later sources.
Will I manage to get 30 sources by the end of the month? Maybe. But as long as I'm putting in at least some effort each day, I will feel very satisfied. And I'm really enjoying the work. One of the things I love about this challenge is that we can each set our own rules and our own standards for satisfaction.
So please tell me: How's your personal 30 x 30 challenge going so far?