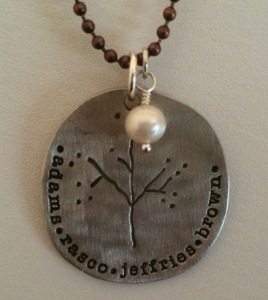 When I was at the Genealogy Society of Southern Illinois conference in August, one of the vendors was Fun Stuff for Genealogists, which was selling some genealogy-related jewelry. None of their wares really grabbed me, but perhaps I had them in the back of my mind when I came across the family tree necklace from Lisa Leonard Designs. Lisa Leonard specializes in personalized, hand-stamped jewelry.
The family tree necklace seems to be intended to be customized with the names of the wearer's children. But when I saw it, I thought how great it would be to personalize it with my grandparents' surnames. That's my pendant in the picture. (I bought the pewter version.) It has the names adams ⋅rasco ⋅ jeffries⋅ brown stamped into it.  I wanted to be able to wear it on a longer chain, so I purchased a 30″ antique copper ball chain, along with the silver link chain that came with the necklace.
It feels like a wonderful way to honor them, as well as a great conversation starter. Just think how many genealogy buffs I'll discover when I wear it!
Hint: If you decide you'd like one, you can sign up to receive Lisa Leonard's newsletter and get a 15 percent off discount code.