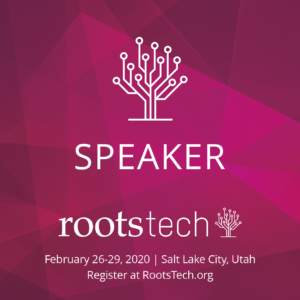 I was so excited to learn last Thursday that one of my speaking proposals for RootsTech 2020 was accepted! My talk is called "The Imperfect Genealogist" and it's about not letting perfectionism get in the way of your genealogy research. I'll talk about the areas of genealogy where good enough really is good enough and discuss some techniques for getting past perfectionistic tendencies.
The topic, of course, ties in with the podcast I co-host, Getting to Good Enough and I'm thrilled that I'll have a few months to work on it. RootsTech 2020 will be held February 26-29, 2020 in Salt Lake City. Please let me know if you're planning to attend!
I spoke at RootsTech 2017, on going paperless in your genealogy. But that time I had a fabulous co-presenter, Brooks Duncan of DocumentSnap. (Together, we created the Paperless Genealogy Guide.) Doing this solo is a thousand times more terrifying. But I think I'm up for the challenge.
I hope to see some readers there! Registration will open September 18 and I'll be sure to remind you when it's open!