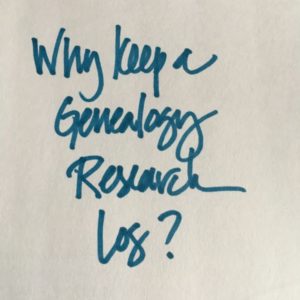 I've been writing about research logs quite a bit these days, particularly about my intention in 2017 to ingrain a habit of logging my research every time I do research. I created the Facebook group Genealogy Research Loggers (feel free to join us) and I really have been trying to be good about using a research log.
Recently, I received a comment on a blog post I wrote about genealogy research logs way back in 2012. Commenter Morag apparently stumbled on that post earlier this month and left this comment:
I don't understand the value of a research log. Do you have any good posts about that, by you or someone else?
I don't think I've ever written any great posts on the why of a research log. To me the value of keeping track of your research is intuitive and it's always gone without saying. But then I realized it was a question worth addressing. So I told Morag I'd write about my reasons and then ask the smart readers of this blog to comment with their own perspectives.
For me, I think it's valuable to write down what I've researched at the end of each session for the following reasons:
It allows me to take stock of what I've done
It prompts me to write down next steps (which helps eliminate the paralyzing question of what to work on)
It helps me avoid repeating searches I've already done
It keeps track of things I would otherwise inevitably forget
This thought process begs the question of what a research log actually is. I'm gathering that the term means different things to different people. For me, a research log has always been simply a record of the research I've done, coupled with notes about potential future exploration. I don't store my genealogy data or source citations in a research log. Those I keep in my family-tree software, Reunion. I keep my research log in Evernote, using a very simple template I created or sometimes just a free-form note. It's informal and not shared with anyone. I have also been experimenting with using the Log feature in Reunion for a particular research problem, but I think I'll go back to Evernote for everything.
I've learned through the Genealogy Research Loggers Facebook group that different people are comfortable with different formats, and I think that's great.  I think the best research log format is one that is simple enough that you'll actually use it and complex enough to provide you with the information you need.
But getting back to the original question, why do you think it's important to keep a research log? Please share!