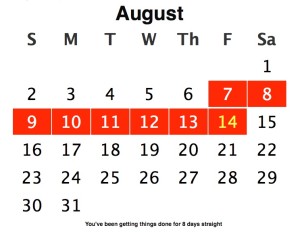 One of my biggest challenges when it comes to doing family history research is making and taking the time to actually do it. Sometimes it falls to the bottom of the priority list and doesn't happen. That's a shame, because I really love doing the research and am anxious to make progress. I've found that putting it on my task list is helpful.
But this month I'm taking it up a notch. I decided to commit to doing 30 minutes of family history research every day for 30 days. I started last Friday, and so far I haven't missed a day.
Thirty minutes doesn't seem like a lot of time (which makes it easier to accomplish), but if I do 30 minutes a day for 30 days, that will be 15 hours of research. Two full days. There's no way I could take two full days to do research this month, but I can find 30 minutes a day.
Since I've made this commitment, I've worked on my genealogy on days I never otherwise would have. I had a couple of stressful days this week due to a family emergency, but I did the research at the end of the day. That felt great. Right now, one of my projects is transcribing Civil War pension files and that has the advantage of being non-intimidating and easy to open and close. I love that I'm making progress on it!
One tool I'm using to strengthen the commitment and just make it more fun is Don't Break the Chain. It's a simple calendar I mark when I've accomplished the goal (doing 30 minutes of research). It's powerful because after a few marks you don't want to break the chain. That's my Don't Break the Chain calendar in the photo above.
Anybody care to join me in your own personal 30 x 30 challenge?