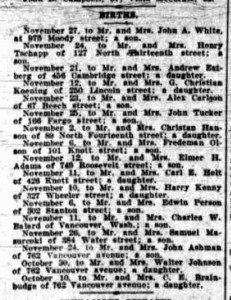 I've been frustrated by a little mystery surrounding the birth of my grandfather, David Adams. I knew from the Social Security Death Index that he was born on November 12, 1904. According to census records, he was born in Oregon. In the 1900 census, the family was living in Sacramento, Kentucky. In the 1910 census they were Quinault, Washington, where my great grandfather, Elmer Adams, worked as a farmer.
I visited my parents earlier this month and I asked my father why the family moved from Kentucky to Washington. He said it was never discussed, so he had no idea. When I told him that the census records indicated that his father had been born in Oregon, he was surprised. He had never known the family to live in Oregon. We guessed that perhaps they traveled to the big city of Portland for the birth. That gave me an idea: Why not search for a birth announcement in the Portland newspaper?
Today, I finally had a chance to do that. Thanks to the State Research Guide for Oregon put out by Family Tree Magazine, I was easily able to find the Historic Oregon Newspapers website. A search on the words "Elmer Adams" within five words of one another, limited to newspapers published in 1904, garnered seven results. Only one of those articles was published after November 12. A click later, I saw it: a birth announcement for a son born to Mr. and Mrs. Elmer Adams on November 12. It appeared in the November 30 edition of the Portland, Oregon, Daily Journal. The two-line announcement also gave a street address. Apparently, they were living in Portland when they first moved west! (My grandfather's sister, Dora, was born in Kentucky in 1902, so the move west must have taken place  a year or two before my grandfather's birth.)
Without a place of birth, I'd been unable to request a birth certificate for my grandfather. But now, knowing he was born in Portland, I visited the state archives' website and was able to order his birth certificate. This should arrive in just a few days.
I'm very excited! It's been bothering me that I didn't know where my grandfather was born and I can't wait to get my hands on his birth certificate.