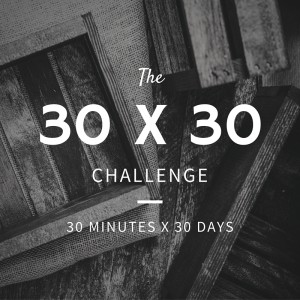 The October 2018 30 x 30 challenge has come to an end and it's time for those of us who were participating to fess up. How did it go for you?
For me, this challenge was not the best. Usually my 30 x 30 challenges are hugely motivating for me. More often than not, because of the challenge I'm able to stay on track and research for at least 30 minutes a day for 30 days in a row. This October, however, I was just not able to prioritize genealogy research. My schedule was such that I couldn't fit in the research first thing in the morning and, as I've discovered, if I don't first thing it usually doesn't get done. The last week of the month, I didn't do any research.
But I'm cutting myself a lot of slack. The genealogy research is waiting for me and I'm hopeful that I will be able to prioritize once again very soon. I have some challenges, including an upcoming five-day trip and a visit from my brother and niece (who live in Australia) followed by a trip with them to Washington state see our father. Sometimes during these family times regular work falls off the radar and genealogy becomes a priority. So I'm hopeful that I'll get some great genealogy research in the rest of the year. But I don't think I'll start another challenge until January.
How about you? Did you fare better than me? Did the challenge help you get some research in? Would you be up for a January 2019 30 x 30 challenge?