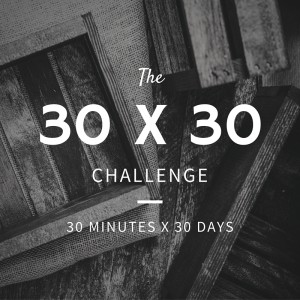 It's last day of October. (October felt very long to me!) For those of you who participated in the 30 x 30 challenge in which you committed to doing 30 minutes of genealogy research for 30 days in a row (or some variation, at your discretion), I'd love to hear how the challenge went for you!
As I mentioned in my mid-month update, I had a blockbuster first half of the month. The only day I failed to research in the first 26 days of the challenge was (ironically enough) the day I posted that update. I had two trips in October, one to Walla Walla to visit my dad for a week followed shortly by a five-day trip to New York City to pal around with my college buddies (which was heaven). I managed daily research all the way to my penultimate day in New York, which was October 26. But when I got home after so much travel I had to hit the ground running with appointments and other obligations for my organizing business. So I'm ending the month with a whimper.
But I'm very proud that I researched 25 out of the first 26 days of the month. I love how daily research keeps me connected with my ancestors and my research.
In November I'll be working every day on my novel for National Novel Writing Month, so I'm thinking I won't get a lot of genealogy research done. Maybe I'll surprise myself. I think I'll start another 30 x 30 challenge in January. I hope you'll join me!
In the meantime, please report in, if you'd like!