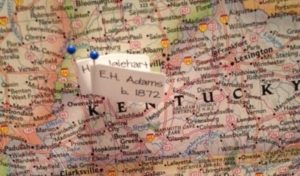 On August 14, less than two weeks from now, I leave for my week-long research excursion to the Allen County Public Library Genealogy Center in Ft. Wayne, Indiana, a six-hour drive from my home in St. Louis. This is a National Genealogical Society research trip. I paid $750 (including hotel) and I am really excited to get my money's worth!
I know I need to spend some time preparing so that my time there is well spent. With all the possibilities of things to research, narrowing it down is one of my biggest challenges. I went to a talk at the Midwestern Roots Family History and Genealogy Conference earlier this month on preparing for a repository trip (see my last post), so I have a game plan. After hearing that talk, as well as a talk on the library's holdings, I'm planning to focus my research on one locality. I have a cluster of ancestors who lived in Kentucky in the 1800s to early 1900s. I'm going to focus on McLean and Muhlenberg Counties.
I have a multi-pronged approach to this research preparation:
Searching the library's holdings for information on this locality and adding to a spreadsheet of specific books and microfilm rolls I want to look at.
Making sure the items I've found aren't readily available on the internet, so I know my time at the library is spent looking at resources I can't readily find elsewhere.
Looking through my existing research for holes, mysteries, and clues I could explore at the library. I'm adding those to a separate sheet on the spreadsheet. I won't necessarily ignore non-Kentucky mysteries, but I'll put them lower on my priority list.
I also plan to go through my paper files for those ancestors to make sure there aren't any resources there that I didn't manage to get on my hard drive. I'm thinking that I'll take along my computer, but not my paper files, so I'll try to scan and file anything I'd missed.
That's a pretty labor-intensive list for two weeks but I'm trying to do a little each day and also spend more time with it on the weekends. I know that any effort at all will be beneficial, even if I don't get to all of it.
I love the idea of homing in on one locality. That's helping me stay focused and not feel overwhelmed.
Do any of you experienced researchers have any advice for me that you'd like to share?