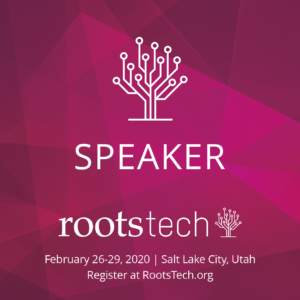 Registration has opened for RootsTech 2020, to be held in Salt Lake City February 26 to 29! As I mentioned, I will be speaking at this conference. Right now, my talk, The Imperfect Genealogist, is scheduled for Friday afternoon, February 28, but that's subject to change. (You can see the current schedule here.) In a communication to speakers, we learned that 600 people signed up within the first few hours of registration opening on Wednesday. That bodes well for a well-attended conference as usual!
You can purchase a RootsTech pass for all four days ($169), or a one-day pass for a particular day ($99). And, if you're feeling flush, you can also purchase an Ultimate Experience Pass (for $799) that gives you reserved seating, and behind-the-scenes opportunities, including a main stage rehearsal opportunity. You can check out this comparison chart of the various pass options.
RootsTech also offers Family Discovery Day on Saturday, February 29, for members of the LDS church. It's free, but registration is required.
If you know you'll attend, I urge you to register now (the early bird pricing above ends until October 11) and book a hotel room at the same time. The RootsTech block of rooms at the conference hotels are already selling out. You might consider booking a hotel room even if you're still on the fence, since you can cancel it later if you decide not to attend. But be sure and make a note of it. Last year, I didn't attend RootsTech, but I did book a hotel room months before–and promptly forgot. Imagine how shocked I was when I received an email suggesting I could check in for my Salt Lake City room online just a couple of days before the conference. Thankfully, I was able to cancel without penalty.
In addition to the the over 300 breakout sessions and daily general sessions with keynote speakers, RootsTech also features a giant Expo Hall where you can see the latest and greatest products and services for genealogists and talk with representatives from those companies. The conference is sponsored by Family Search, which typically has a huge booth staffed by their personnel to help you learn to take full of advantage of Family Search. Exhibitors also offer talks in the Expo Hall.
If you need more convincing, check out 10 Reasons to Attend RootsTech. And here's an 11th reason. If you go, you can meet me! If you decide to attend, please let me know in the comments, if you haven't already in a previous post, and we'll arrange to meet up.