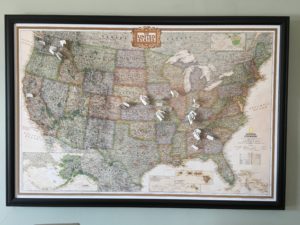 Four years ago (time flies!) I posted about how I created an ancestor map so that I could place pins on the map where my ancestors were born and died. I was proud of my DIY efforts. But I'm sorry to report that it turns out my DIY skills are lacking. Over time, the edges of the map pulled out of the frame so that pretty much all that was keeping the map in the frame were the pins. It made me sad when I looked at it and I stopped adding pins. I didn't take it down, though, because I kept hoping I'd figure out a way to fix it.
Fast forward several years and I noticed in an organizing client's home the exact same map in a nice frame. The map was held firmly in place and looked great. I asked her where she got it and whether she had purchased the frame with the map already in it. She had, and she sent me an Amazon link to the map.
I decided to go ahead and replace my sad map with a new and improved version. It cost about $78 but to me it's worth it because it makes me happy, not sad, when I look at it!
I removed all the pins from the old map and put up the new map in its place, using Command hooks. Then I set to work putting the pins back up. I counted the work toward my 30 minutes of genealogy research that day, and in my research log (yay, me!) I wrote:
"The process was really fun because it was like a quiz. I'd draw a pin with a flag on it with the name of an ancestor and since I wanted to find them in my tree, without searching, I needed to know what line they came from. I also made a game of trying to get to that with the fewest clicks within my tree. Then I tried to guess the locality. And, of course, I had to find the locality on the (not very detailed) map, using Google maps for guidance."
The process pointed out some holes in my data in my tree—death vs burial places for example; and birth places for which I had only a state. It also pointed to the fact that I'd filled in quite a few holes since I first put together the pin labels, even though the map pins go back no further than my great great grandparents (and not even all of those). I decided to add pins for burial places when they differed from death places, so in addition to replacing the pins that were on the map I added 11 pins.
I love seeing the clusters of pins on my map (in Alabama, Kentucky, Missouri and Washington primarily). I've color-coded the pins by family line and you can see that the lines converged in Pacific Northwest, where my father and his father (and I) were born and where my mother moved from Missouri at the age of three.
Here are a couple of more detailed photos of my clusters. (For those who notice such things,  I had to use a different font for the labels I added recently because I lost the old font when I upgraded my computer.)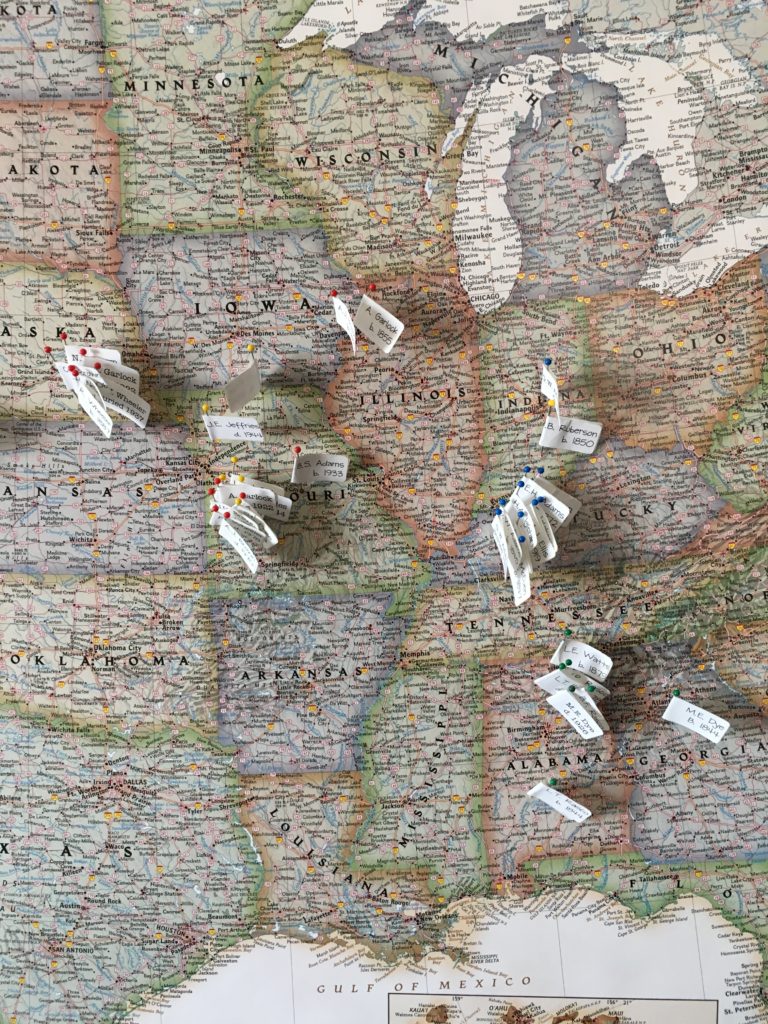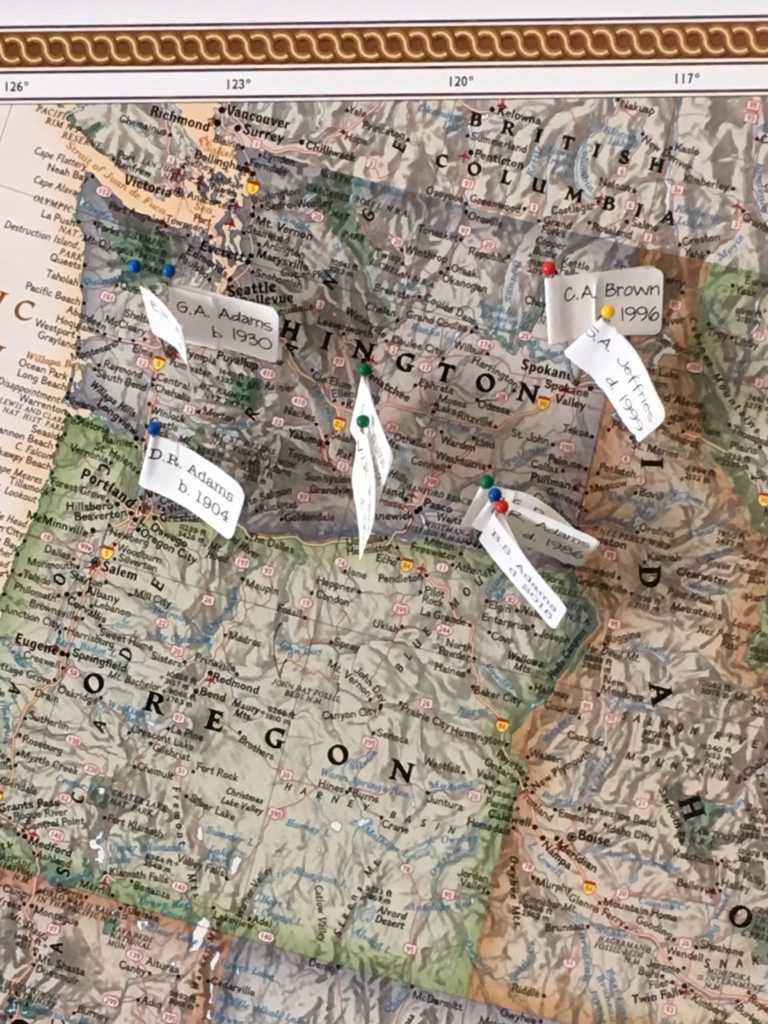 It's been a fun exercise and I'm looking forward to adding more pins to my map!