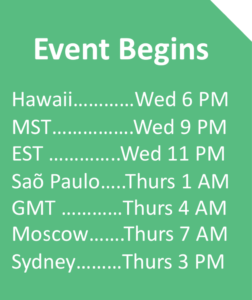 I just noticed that the schedule for the live-streamed main-stage talks at the RootsTech virtual conference February 25-27 has been posted! Here's the link.
This is a truly global conference and the first thing that jumped out at me is that the conference actually starts on February 24 for those of us in the United States. See the graphic at the top of this post (from the RootsTech website) for the starting day and time where you live. The virtual Expo Hall Preview is from 7 to 11 pm EST on February 24.
In addition to the streaming schedule, there is an 18-page pdf of all the English-language sessions that will be presented. Times aren't indicated for those, which makes me think that some, if not all, of them will be available on demand. I read on the website that all recordings and videos will be available on demand throughout the year. That's amazing.
If you're anxious to learn more before the conference opens next week, check out the Road to RootsTech videos on YouTube.
As I've mentioned before, this year's RootsTech conference is free of charge. (Go to Rootstech.org to learn more and to register if you haven't already.) It's an amazing learning opportunity and I commend RootsTech for innovating a whole new type of conference when the pandemic made it impossible to have the usual gigantic in-person conference. I look forward to learning more about how it will unfold.
The last flight I took was on March 2, 2020, when I flew home from RootsTech. It's hard to believe that at the end of February I was with tens of thousands of people under one roof. It feels almost unimaginable. I look forward to being under a virtual roof with hundreds of thousands of genealogy enthusiasts later this month!