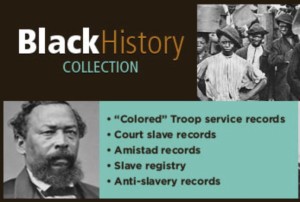 I'm a little late to the game on this, but there are ten days left in February. I just became aware that the Black History Collection at Fold3.com is available to all (subscribers or non-subscribers) this month. It includes over a million photos and documents from five eras (more information here):
Slave records
The Civil War
Reconstruction & Jim Crow Laws
World War I & II
The Civil Rights Movement
If you have African American ancestors this might be a great opportunity to learn new things about them! If you're interested in black history this looks like a rich collection.