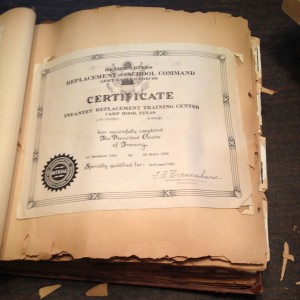 I recently purchased the Declutter Your Photos Like an Archivist kit from Sally Jacobs, The Practical Archivist. The kit came with some great supplies and some wonderful info. And it included four live webchats with Sally last month for people who purchased the kits.
Great stuff. Great learning.
My takeaway was how important it is to properly store family keepsakes on paper so that acid doesn't destroy them over time. It takes more effort. It's more expensive. And the end result is that future generations will be able to enjoy and benefit from these precious items.
This is all well and good in theory. The application of it, however, can feel cumbersome, as I discovered when helping a client sort through World War II-related items left behind by her grandfather and father.
Then we found her father's scrapbook, a page of which is pictured above. He obviously took so much care in putting it together. When he was alive, he refused to speak to his children about his war experiences and didn't even let them look at his scrapbook. Now that he's gone, his daughter can learn a little about his experience through this precious book.
But here's the thing: The scrapbook is literally disintegrating. The papers held within are in okay shape. But the brittle, yellowed scrapbook pages were clearly made from acidic paper and they crumble at the touch. I'm hopeful that my client will make it a priority to rescue the items held inside the scrapbook and perhaps replicate it in an acid-free environment.
I so appreciate this reminder of the importance of proper preservation if papers are to survive to be enjoyed by future generations. Any time I hesitate to go to the trouble and expense, I'll remind myself of this scrapbook.