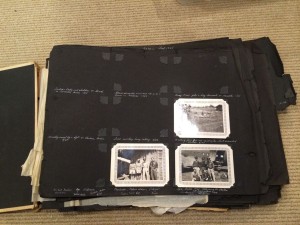 This week, I was working with a wonderful organizing client. As she gave me a tour of the storage spaces in her home, she said, "This is my most treasured possession!" And she bent down and pulled a plastic bin out from under the bed. Inside was her father's World War II photo album, along with a few other war artifacts. The photo album had small black-and-white photos mounted onto black paper with meticulous white handwritten captions. The pages were deteriorating and some of the photos had fallen out of their mounting.
I oohed and ahhhed because it was an amazing heirloom. But I challenged her a little by saying, "Why is your most treasured possession stored under the bed in a non-archival plastic bin?" One day (soon, I hope), we will work together to get this item and some other heirlooms into safer storage.
That very same day, my mother's cousin asked me for a photo of my grandfather for the genealogy poster he is putting together. So I rifled through the box of family photos that my mother gave me, trying to locate a good picture for him. As I did that, I realized that these photos are among my most treasured possessions, yet I am not treating them with the respect they deserve. They're not archivally stored, nor are they organized.
When I acquired this box in December, I blogged about my plan to deal with them. But I've done nothing. I keep waiting for a free block of time.  should know by now that the free time is never going to materialize on its own. I have to set aside time for this project. Luckily for me, this branch of the family is having a reunion in a couple of months, so I can get some help identifying the people in these photos!
How about you? Do you have treasured inherited items that are languishing in unsafe conditions? If you need information on how to handle and store them, check out Sally Jacobs of The Practical Archivist and Denise Levenick of The Family Curator. Don't wait for something bad to happen. Carve out some time to deal with them now.