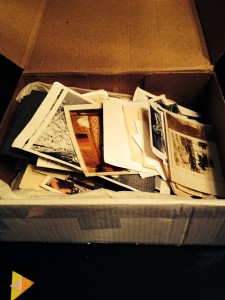 Until recently my mother had a box of old family photos in her closet that we would enjoy going through with her when I visited. As I've become more involved with family history research and with learning about proper preservation techniques, I realized that I really wanted to get the photos to my home and deal with them properly.
So when I there a couple of weeks ago, I mailed them to myself. They arrived last week. That's a photo of the box and its jumbled contents.
I don't know about you, but when I see a box like that and think about creating order out of it, I get a little overwhelmed. But, luckily, something else came in the mail the next day. It was the Family Archivist Survival Kit, sold by Sally Jacobs, The Practical Archivist. Part of the kit is her Loose Photos Kit (I certainly have loose photos!). That includes archival-quality storage boxes and envelopes as well as instruction.
My intention is to buy the ScanSnap SV600 scanner and scan these babies. But first, I have to create some order and figure out what I have.
Knowing that I have a place to put photos after I sort them (and after I scan them) gives me peace of mind.
Step One is going to be to read the copious information provided in the kits. Step Two (unless I learn otherwise) is going to be to sort into families. And Step Three will be to sort by individual. Maybe it's the professional organizer in me, but I know I'll feel better once the photos are sorted and I see what I have and also have segregated the photos that need identification–of which there will be many.
Many aspects of family history research make me feel overwhelmed. And here's another case. But having resources and supplies available to me is hugely helpful, and probably the reason I was able to actually take the box from my mother. (She's been offering it for years.)
I'll write here about the progress and any surprises that are thrown my way!