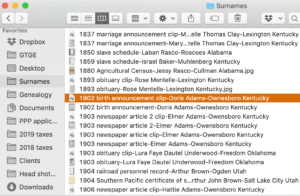 I hate it when I let a backlog of downloaded files build up. I know that downloading a file without gleaning the facts from it and adding it to my genealogy software does not further my research. And yet I struggle with backlogs. My most recent post on my struggle was in October 2018. That fall, I vowed to eliminate my backlog and I succeeded in doing it, sort of. I took a group of deeds I couldn't face and moved them to a foldern unprocessed. But otherwise, I processed 79 downloaded documents by making backlog-busting my research focus.
Well, the backlog has built up again and it's time to address it. I have 78 documents languishing in my Surnames folder, waiting to be processed and filed in their appropriate folders. I plan to announce an August 30 x 30 challenge next week and my focus in August will be to get rid of that backlog. Two years ago, I created a spreadsheet in which I kept a running tally of the numbers of files I needed to process. I found updating it every session to be quite rewarding. So I think I'll employ that strategy again.
One reason for my large backlog is that I went on a sprint of newspaper research in June and July. I had a seven-day free trial of newspapers.com and then bought a 30-day subscription that expired July 22. I found myself downloading, but not necessarily processing, a bunch of newspaper articles. (I did process some of them, though!)
In organizing, we refer to this as backsliding. I know how to process documents. I actually enjoy processing documents. But when I let a backlog build up it quickly gets overwhelming and less enjoyable. I find that focusing on the backlog to get it back to zero brings me great peace of mind.
In order to succeed at getting rid of my backlog, I know I have to avoid downloading any new documents while I'm focused on the backlog. Any documents I do download, I must commit to processing in the same research session. That way the number of documents left to process goes down every day. (Come to think about it, that's not unlike dealing with physical clutter, credit card debt or any number of other scenarios!)
I bet I'm not the only one dealing with a backlog of genealogy documents (either digital or paper) that have been collected but not dealt with. If you have a backlog, feel free to join me in backlog busting in August!