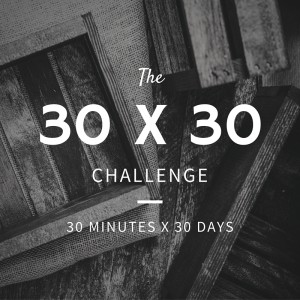 It's been ten months since I implemented a 30 x 30 challenge, in which I challenged myself to do genealogy research for 30 minutes a day for 30 days. I started this new challenge on Wednesday, so my 30 days will go from November 2 to December 1.
I did this in August 2015 with great results. My attempt to do another one in January 2016 was ill-fated, thanks to the potent combination of a new puppy and a typically busy January for my organizing business.
For many people November is a busy time, what with Thanksgiving and the December holidays coming up. That's not really the case for me; I don't have to do any work for Thanksgiving and my Christmas responsibilities are limited to holiday cards. I will be enjoying a visit from my brother (who lives in Australia) during this time, but he won't prevent me from doing genealogy research.
Thanks to my moratorium on bringing in new information, I'm newly focused on processing the rather complicated pension file of my great great grandfather, George Washington Adams (1845-1938), who fought with the 35th Regiment, Kentucky Volunteer Infantry in the Civil War. While living in the U.S. National Home for Volunteer Disabled Soldiers in Danville, Illinois, in the 1920s, he was turned in for not being as disabled as he said he was on his pension application. Investigations  and appeals ensued (he even got his senator involved). That made for a lot of documents to process–more than 150 pages worth! But it's a true treasure trove of information and paints quite a picture of my ancestor.
I don't think I'll have a problem putting in 30 minutes (or more) a day, if life stays on an even keel.
Would anyone like to join me on a 30 x 30 challenge?
ETA: Commenter Maria asked for a photo of my puppy Bix, who just turned one. Here's a favorite: celebrating victory after removing a squeaker from a toy. He loves destroying toys!