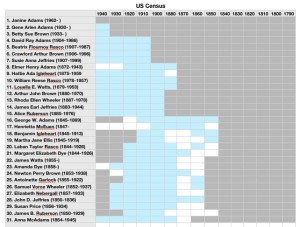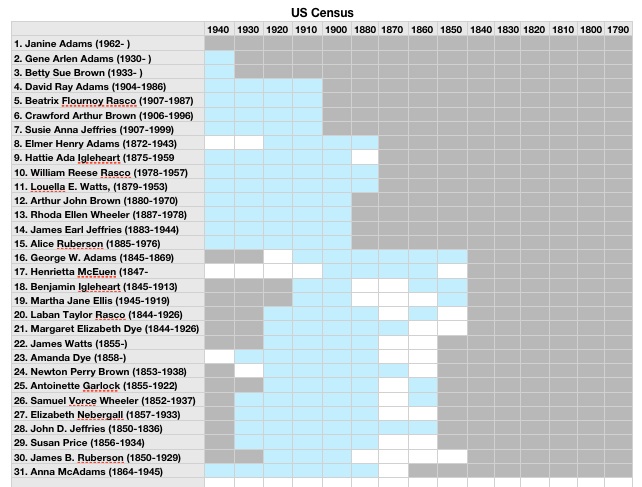 My memory is not what it used to be. And I'm finding the more family history research I do, the more I'm duplicating effort. In the process of researching one person, another person will pop into my mind. I'll look for a record for that person, rejoice in finding it, then realize I'd already found it!
So in an effort to avoid that, as well help me in my never-ending quest to not feel overwhelmed about my genealogy research, this past weekend I created a series of progress-tracking spreadsheets. I was inspired by Miriam's Census Spreadsheet, which is a Google Doc. I'm a Mac user and I used the Numbers program (similar to Excel) to create three spreadsheets (so far) that track progress, by ancestor, on finding the following records:
Sheet 1: BMD
birth records
marriage records
death records
burial records
grave photos
Sheet 2: Censuses
On the first table (pictured above) I have a row for each ancestor (this is a work in progress…I've been adding info a generation at a time and up to my great-great grandparents), and a column for each U.S. Census. I fill in the square in blue if that record was found. A grey square indicates the ancestor wasn't alive for that census. A blank (white) square indicates I still need to find this record. I also have a table of state censuses, so I can note those.
Sheet 3: Military
Here I track what military records I've found for each ancestor, by war or conflict. This one's definitely a work in progress.
Going through this process helped me realize how much census work I'd done and how much more work I had to do to find birth, marriage and death records. I think these charts will help me feel a sense of accomplishment and also help me hone in on work that needs to be done. I'll keep adding ancestors from Reunion, until I'm caught up, and then plan to keep up with the spreadsheet as I find more records.