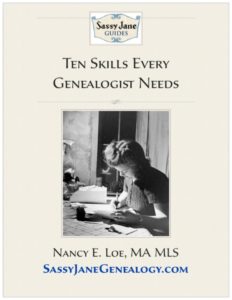 Earlier today, I was entering my PayPal transactions into my financial software and I saw that I had purchased a document from Sassy Jane Genealogy last month that I had not read and don't even remember purchasing. So I looked in my Mac's Finder to see what I'd downloaded from that website and saw that it was a pdf called Ten Skills Every Genealogist Needs. That sounds fantastic! I can't wait to read it.
I knew there were doubtless other forgotten documents on my hard drive, so I created a notebook in Evernote called Downloaded items to read/watch NOW and put it in my genealogy stack. Then I went on a hunt for other unread or underutilized resources hanging around on my computer. I bought them with the best of intentions and then moved on to the next shiny object.
I found digital copies of Family Tree Magazine. At least one webinar I haven't watched. A research guide to Kentucky research. Another Sassy Jane Genealogy guide. And I feel like I've barely scratched the surface!
In these next couple of low-key weeks, I'm going to try to actually read or watch these valuable resources. And I vow to do a better job of keeping track of what I buy/download. Evernote should be my friend with this.
How about you? Do you have any learning resources you've downloaded but forgotten about? Happy hunting!