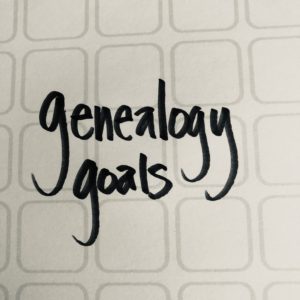 I don't know if it's because I'm a professional organizer or if it's just how I'm wired, but I love setting goals. I set goals for my personal life, my genealogy life, and, of course, my organizing business every year. I typically take a one-day retreat (I detailed how that works in this blog post on my organizing blog last year) devoted to reviewing last year's goals and setting goals for the coming year.
These are the genealogy goals I set for 2018:
Come up with a scheme for keeping me focused
Index at least four hours a month at Family Search
Attend at least three genealogy conferences
Attend at least one week-long institute
Go on a research trip
Improve my research log and/or my capturing of tasks
Add 300 sources to Reunion
Create the habit of researching daily
In looking at them today, I'm feeling pretty good, except for the indiexing. Not only did I do no indexing, I didn't even remember that I wanted to index! Here's the rest of the scorecard:
I feel like I became much more focused in my research–sticking with the Adams line the first six months and shifting to the Rasco line in the latter half of the year helped me stay focused on my research in general. And my short sessions have kept me quite focused.
I attended three genealogy conferences: RootsTech in Salt Lake City, the Missouri State Genealogical Association conference in Columbia, Missouri and the St. Louis Genealogy Conference. In addition, I attended a House History workshop from the Missouri Historical Society and a day-long DNA workshop presented by Diahan Southard, sponsored by the St. Louis Genealogical Society.
I had to shelve my goal of attending a week-long institute and taking a research trip because my husband was laid off this year and it didn't seem prudent. He's happily employed now, so perhaps I can add those things to my 2019 goals.
I'm not sure I improved my research log but I did improve my frequency of use. The habit of recording my research activities every session (informally in Evernote) is now ingrained. That's huge!
I was sure I'd added 300 sources to Reunion until I looked. I have just shy of 900 sources and added 185 of them in 2018. I think that goal was just unrealistic.
As for daily research, I did better some months than others. These last two months have been much more spotty. But according to my research log, I rocked it in January, February, March, July, August and October. I feel pretty good about that, though there's room for improvement.
My annual retreat this year will be on December 26. Once again, I'll include my genealogy research goals in the planning process. Incidentally, a tool that I'll be using in the process is the Good Enough Goal Setting workbook + audio that my  Getting to Good Enough podcast co-host, Shannon Wilkinson, and I created. I encourage you to check it out!
Do you set goals for your genealogy research? Please feel free to share them in the comments, if you'd like!