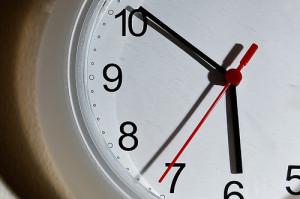 When it comes to my family history research, time management is a big challenge for me. I want to hunker in and start researching my family. But I also want to learn more techniques for doing the research. And I want to stay on top of the resources that are available out there. And I want to read other genealogy blogs, because they're so interesting.
But there are only so many hours in a day.
Getting overwhelmed has always been a challenge for me in my research. I think it has to do with the abundance of possibilities this avocation offers. There's so much to learn about my family and so many ways to go about learning it.
I do well with structure and I know that, for me, structure helps me deal with that overwhelmed feeling I get in the face of too many choices. (This is a theme in my life.)
So in thinking about how I might structure my genealogy research time to avoid overwhelm and actually get stuff done, this is what I'm thinking:
I'd like to allot a certain number of hours a week to doing family history research.
I'd like to divide those house among a variety of pursuits, assigning a percentage to each.
So how do I go about deciding how many hours and what percentages? It's pretty much a crap shoot. I know from experience there's no point in worrying about getting it right at the outset. I need to just pick a starting point and adjust as experience dictates. So here's the goal I'm going to set for myself, for the remainder of March and the month of April (keeping in mind I'm away for a week in April where no family history work will be done).
I'm going to strive to work 10 hours a week on family-history-research-related activities.
I'll try to divide those ten hours this way:
50 percent on actual research about my family (5 hours)
20 percent going through downloaded learning resources (2 hours)
20 percent reading genealogy blogs (2 hours)
10 percent organizing my family history research (1 hour)
My research is pretty well organized and I don't have a big backlog, so an hour a week should do it. I could see needing to spend more than an hour a week organizing.
This is just a starting point. I could be way off on my percentages. I think I'll keep a time sheet of some sort so I can see how I'm actually using family history research time and how the percentages actually shake out.
I'll report back how it works out and whether this structure has helped.
How about you? How do you balance the research with the learning and the organizing?
Photo by R.L. Hyde via Flickr