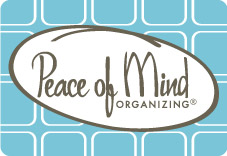 I am celebrating the 10th anniversary of Peace of Mind Organizing®, my organizing business, this month. I wrote an article for my monthly newsletter yesterday that listed ten organizing principles I've come to believe over my years as an organizer. They're not genealogy-related, but I thought readers of Organize Your Family History might benefit from them. (Keep reading to the end to see a very special, limited-time offer.)
The less stuff you own, the easier your life is. Less stuff = more freedom.
Relationships are more important than things. Don't let your stuff get in the way of your relationships.
There is no such thing as perfectly organized. Strive for "organized enough" instead.
You can't put something away unless you have a place for it. And you can't have a place for it if you have more stuff than you can comfortably store.
It's easiest to create a new habit if you pair it with something you're already doing. Use that trick to let habit creation be easy.
Indecision leads to clutter. Make it a habit to decide immediately what to do with items.
It's okay to ask for organizing help. In fact, it can be very beneficial.
Messy does not equal disorganized. I'm living proof.
Tidy does not equal organized. I've seen many neat but disorganized spaces.
You are not your stuff. Don't let your stuff (and your ability to organize it) define you.
In yesterday's newsletter, I made a special, limited-time offer in honor of my anniversary. For the next week, you can purchase all nine of my Organizing Guides for the price of one, just $9. Organizing Guides are my concise, downloadable pdfs that touch on the most common organizing issues that I've seen in my decade as a professional organizer. Through July 22, 2015, go to the Organizing Guides page on my website, scroll down to Want them all?, click Add to Cart and use the coupon code POMO10th at checkout to receive all nine guides for just $9.