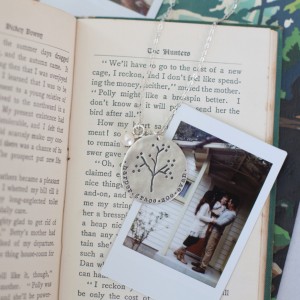 Last week I wrote about giving clutter-free gifts for genealogists and had a list of suggestions, mostly of non-tangible items. But today, I can't resist telling you about one of my very favorite pieces of jewelry, one that think would make a great gift for a genealogist.
It's the Family Tree Necklace from Lisa Leonard Designs. I blogged about mine in September 2014. The necklace, I think, is intended to be worn by moms whose children's first names are stamped on it. The one I ordered one for myself had my grandparents' surnames on it instead. I love the connection to my ancestors I feel when I wear it. And I think it's a pretty piece of jewelry.
My Family Tree Necklace, purchased in 2014, was made of pewter. I see that the current offering is in sterling silver. If you have a pendant-wearing genealogy enthusiast on your list, you might consider this lovely gift. Since the item is hand-stamped, I'm not sure if it will be ready in time for Christmas. But I'm sure it would be appreciated, even if the gift arrived in January.
Hint: If you sign up for Lisa Leonard's email newsletter, you'll be send a 15% off coupon (or at least that was the case when I signed up!).