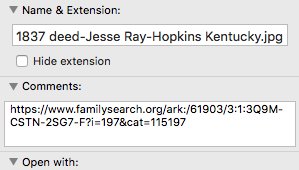 I've posted before about how I process documents that I download from online sources. In an ideal world, I follow my workflow from start to finish as soon as I download a document. But in the real world, it's not unusual for me to run out of time to process the document immediately. (By "process" I mean, create a source, extract facts, add those facts to my genealogy software and properly file the document on my hard drive). That's an inevitable outcome in researching in short, frequent sessions, as I do.
When I download a document, without fail I rename the file using my file-naming protocol (Year Document Type-Ancestor Name-Location) and file it in my Surnames folder. But all too often I don't have time to properly process it and the document languishes in the Surnames holding pen until I do have time.
Today, I added a small item to my digital workflow. As soon as I download a document and rename it, I right-click on the file in my Mac's Finder, select Get Info, then in the Comments section, I paste the URL of where I found the document. That way, if I need more information to create a source, it's simple for me to get back to the online source. Per my workflow, once the source citation is created, I replace the URL in the Comments area with the citation itself (which includes the URL).
It's a small thing, but I know this is going to save me time in finding the document online again. And it will reduce aggravation. Sometimes little things can make a big difference!
For more in-depth information on going digital with your genealogy research, check out The Paperless Genealogy Guide, a 44-page downloadable guide written by paperless expert Brooks Duncan and me and available for $9.