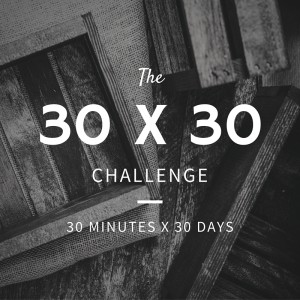 It's May 1, which means that the April 30 x 30 challenge ended yesterday. How did it go for you?
My month went well, though I missed three days. I was going along just fine until I left town for a conference for professional organizers. I just plain forgot to do research one day! Another day, while at the conference, I started to do research, but my heart wasn't in it. And then yesterday, my first day home, was hectic and I didn't manage to do any research.
So I researched (or organized) 27 out of 30 days. I'm okay with that.
One thing I noticed, as I have before, is that I'm best off if I work on my genealogy in the morning, preferably before I walk my dog. If I leave it until the end of the day, I'm sometimes too tired or unmotivated.
Another thing that happened is that I started feeling overwhelmed by my backlog of downloaded documents to be processed. Some were deeds that I'd found on microfilm at the Family History Library and copied to a flash drive. Typically, the unprocessed files hang out in my Surnames folder, as loose files. Since they all start with a date, they rise to the top, above the individual surname folders.
So many deeds had accumulated (I counted 29!) that I was overwhelmed. I created a folder called *Deeds to be processed. (The asterisk puts the folder above the surname folders.) I moved all the deeds into that folder, then moved one at a time out of that folder, so that it was in the usual place for my backlog of documents. A deed stayed there until I finished transcribing it and extracting information. Then I moved the deed and its transcription to the appropriate person folder. (You can read more about my digital workflow…the point of all this is that I created a temporary folder to corral the deeds that were overwhelming me.)
I'm trying hard not to do new research until my backlog is finished. The deeds are a little tedious but they're providing some great insights, so I'm grateful to be working on them.
Enough about me. If you participated in the 30 x 30 challenge, how did it go? If you didn't participate or had to cut out early, rest assured I'll be having another one before too long.