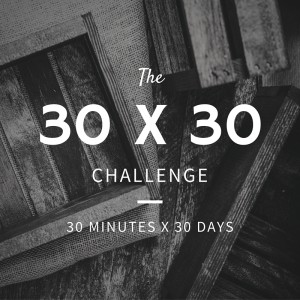 It's the end of another 30-day challenge. About 30 of you signed on in the comments and maybe others took it on without commenting. How'd it go?
These challenges are so valuable for me because they elevate genealogy research on my priority list. Some months, I'm able to do 30 minutes of research all 30 days. Other months, I'm not so lucky. Unfortunately, this was one of the latter months. I did pretty well the first half of the month. But the second half of the month went cattywampus for me because of a perfect storm of injury (I tripped on the sidewalk in front of the post office and scraped myself up pretty well) + oral surgery + one outrageously busy week leading organizing teams that, unfortunately, immediately followed the oral surgery. This last week of the month, though, has been much more calm and comfortable and I have researched every day, except Tuesday. On Tuesday, I just plain forgot.
I'm still processing all the documents/photos from my June Kentucky research trip. But little by little, I'm getting through them. I think I'm going to have another 30 x 30 challenge in October because I'll certainly need one.
So with my true confessions over, it's now your turn. How'd the month go? Did you get in as much research/organization as you hoped? Was the challenge helpful? Please let everyone know in the comments!