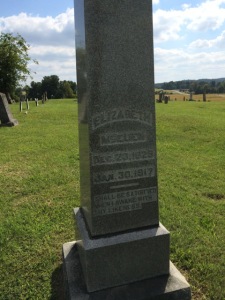 I just finished with my cemetery research trip to Kentucky and Alabama, where some of my ancestors lived and died. Being the professional organizer that I am, I planned the trip fairly extensively, down to the GPS coordinates of the cemeteries I was planning to visit. I worked up a schedule and made hotel reservations. My intention was to visit four cemeteries in three cities over two and a half days. I needed to end up in Nashville mid-afternoon of the third day for a conference.
On Day One, I realized that my plan was flawed. And I was so glad that I had the flexibility to change it. What I hadn't done in all my planning was to build time in to look at local genealogy repositories for resources that might not be available to me on the internet. When I discovered that there was a Kentucky Room in a public library in Owensboro, Kentucky, 45 minutes north of where I was, I chose to stay and do research, rather than proceeding to Alabama as I'd originally planned.
That extra time in the Kentucky Room garnered me a death certificate on microfilm for my great great great grandmother, Elizabeth McEuen (that's her grave marker in the photo), which in turn gave me her parents' names.
The next day I proceeded to Baileyton, Alabama, where I had no trouble locating the grave markers of my great great grandparents, Laban and Margaret Rasco, and Laban's parents, Jesse and Martha Rasco. When an internet search revealed a genealogy room at the library of Wayne Wallace State University, in Hanceville, Alabama, I decided to stay in northern Alabama and forgo my trip south to Marion Junction, Alabama, to visit another cemetery. I chose library research over cemetery research. This also saved me a few hours of driving in each direction.
I think it was a good decision. At the Wayne State library, the helpful librarians quickly identified Laban Rasco's death certificate on microfilm and, in addition, they located his Confederate pension application, a 15-page document that I am looking forward to poring over.
I'm so glad I took this trip. Stepping away from the desk can be so beneficial. To stand in front of the graves of my ancestors was so powerful. To see the towns in which they lived helped me see them as humans. And talking with local people who knew my family's surnames, brought my ancestors to life for me. One of the librarians in Hanceville, it turns out, grew up next to my family's homestead. Making that connection with her was priceless. A week or two after I got home, to my delight, that librarian mailed me a copy of the death certificate for Laban's wife, Margaret Elizabeth Dye!
Thanks to a blog reader, I called ahead to the church associated with one of the cemeteries and was connected to a wonderful local historian who went out of his way to help me and even met me at the cemetery. The trip couldn't have gone better. And I learned a valuable lesson: When on a genealogy trip, keep my schedule loose and flexible so I can take advantage of the opportunities that present themselves.