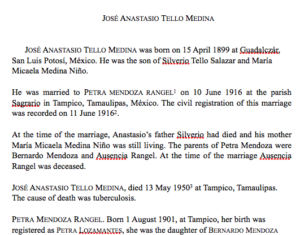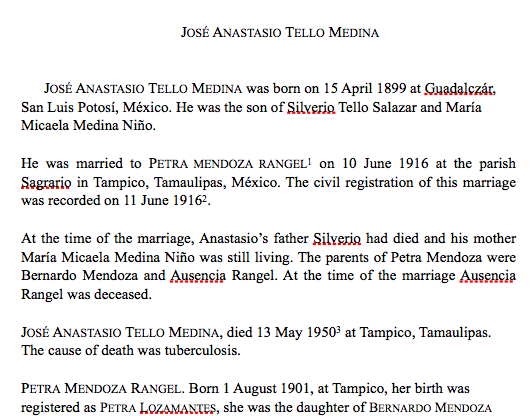 Reader (and professional genealogist) Maria Tello commented in my recent post on shifting my focus that she is in the process of creating biographical sketches for each of her ancestors, so that she can pass information on to her children and grandchildren, who are not genealogists.
I was intrigued by the idea and asked her to give me a little more information, along with an example.
Maria wanted to make her research more easily understood by her children and grandchildren, she is writing these short sketches of each ancestor. Her research on some of her lines goes back to the 15th century, so it's a big task!
I'm thoroughly impressed that Maria's goal is to write one of these each day. I think that's a wonderful way to make an overwhelming project seem much more attainable.
Maria said that she used the Register Style Template from the New England Historic Genealogical Society as the basis for her sketches. I love that sources and footnotes are a prominent part of the template.
Here's a sample sketch, of one of Maria's ancestors on her father's side. She explains, "My accreditation is in Mexico and the bulk of my research is done in Spanish language areas. I used tools that were developed for New England colonial area research, however, and that works splendidly."
Click on this link to read Maria's sketch of José Anastasio Tello.
Maria reports that her children not only have found the sketches easy to understand but they're actually grateful for them!
In addition to the obvious benefit of having an easily understood way to present genealogical information to those who follow you, I can see how useful this exercise is to find holes in your research. I can also see its benefits for reacquainting yourself with your ancestors.
Reunion, the genealogy software I use, will create these reports automatically, I discovered. But Maria and I discussed the benefits to doing them by hand. There's a big difference between creating something and reading something. (This is part of a larger post I'm contemplating on manual versus automatic in genealogy–keep an eye out.)
As I look toward shifting to a different family line in my own research, I think I'm going to take the time to write a bio sketch for the main ancestor I've been researching, George Washington Adams (1845-1938) before I say goodby to him for a little while. I think it should be a fun exercise.
Maria, thank you so much for sharing what you're doing! And best of luck completing all the profiles!