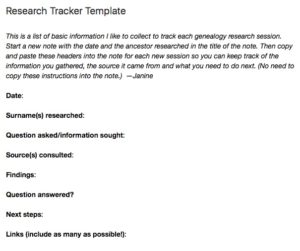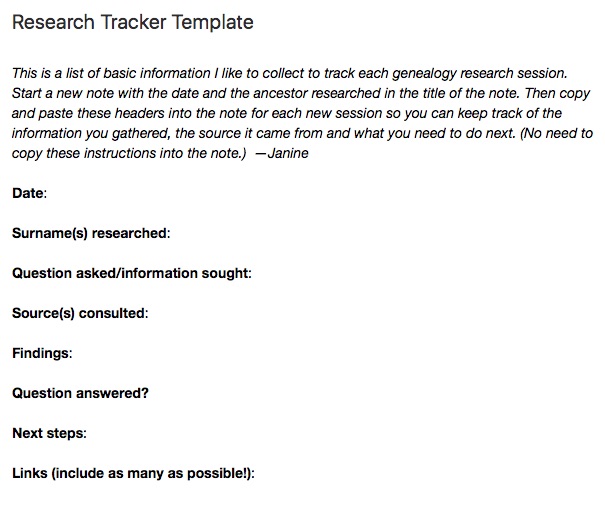 I've been doing genealogy research long enough to know the value of keeping a research log. Yet I really resist it. I'm not sure why and it's driving me a little crazy. I was thinking about it this morning as I was walking my dog and I vowed to amend my 2017 genealogy goals to add this important goal:
Create a habit of logging each research session
I think one of the reasons I've resisted using a log is that I find myself a little intimidated by complicated spreadsheets. The research log created and shared by Thomas MacEntee is a thing of beauty. Used regularly and properly it would elevate anyone's research. Yet the idea of filling it out is just too much for me. And so I've been very hit or miss on writing down what I'm researching.
On my walk this morning, it hit me that a research log is like any organizing system: The very best one is the one you will use. It's not a one-size-fits-all thing. There's no right way to do it. The important thing is to just do something.
When I got home, I mindmapped what a simple research log I might create for myself would look like. Then I looked back at my previous attempts, all in Evernote, and I realize I actually have something in place that I can just pick up and start using again.
Back in late 2013, I partnered with the personal organizer app Springpad (RIP Springpad!) and created a Family History Organizer custom notebook. Part of it was research tracker template, a very simple form to track what you've done in each session. A Research Log Lite, if you will. I think I never felt my research tracker template was good enough to qualify as a research log and I didn't fully commit to it. (I've blogged about my attempts.) But now I feel that if I use it regularly, I'll actually have a nice body of knowledge. I'm going for it.
Today's the first day of a new focus on keeping a research log. I created a 2017 Research Log notebook in Evernote, which is my preferred place to keep track of information (genealogy-wise and otherwise). I revised the original research tracker template a little and placed in my 2017 Research Log Notebook. (That's the template, in its entirety, up in the top of this post. Click on the image to see it larger.)
I created my first note in the notebook, titling the note with today's date and the names of the ancestors I researched. I copied the template into the note and filled it out. I tagged it with the ancestor's surname (Adams) and created an "Adams RL tag", so I can easily pull up all my research log notes about the Adamses.  I hope this is the beginning of a wonderful habit.
Bonus! I made the research tracker template, public, so you can add it to your own Evernote account if you want to give it a try.  Just click on the link and it should open up in Evernote for you. (I'm a novice at public Evernote notes, so if it doesn't work for you, please let me know and I'll figure it out.)
I'm always excited about creating new habits in the new year; I hope to be reporting here that it's become ingrained!
I'm curious: Do you keep a research log? If so, in what format?