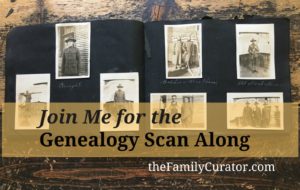 I was so delighted to get an email from Denise Levenick of The Family Curator about her Genealogy Scan Along, starting tomorrow. Denise is scanning her own old family photos with the intention of creating a family history photo book. And she wants you to join her!
Each week for four weeks, beginning Wednesday, June 21, she'll post a tutorial and instructions for creating a family history photo book step-by-step using the techniques in her book How to Archive Family Photos.
I think this is a brilliant idea. I'm a huge fan of accountability and working alongside people who are working on their own projects (whether in-person or virtually). I've joined knit alongs in the path. And right now I'm part of a little group on Facebook doing a 30-day plank challenge together.
If you have photos you'd like to scan and especially if you'd like to create a photo book through a service like Shutterfly, now's your chance! I think this is an amazing opportunity to actually get it done. And you get expert advice while you're at it!
You can get more details (including about the Scan Along Facebook group and sign up on the Genealogy Scan Along page. Have fun!