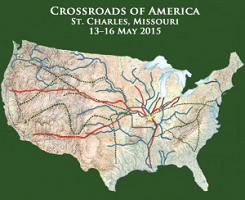 I am so excited to be attending the National Genealogical Society's annual Family History Conference, May 13 to 16. It's going to held in St. Charles, Missouri, less than a half hour from my house, so it's been on my calendar for about three years.
I registered in January, but I just noticed that the early-bird registration deadline is Monday, March 30. If you register after Monday, you'll pay an additional $35. So if you've been on the fence about attending, now might be a good time to make a decision. Here are links for the program and to register. It's a very robust program.
If you can't attend but are interested in the content, a certain number of the lectures will be available via live stream for a fee of $80 or $140, depending on whether you buy the opportunity to view one or two tracks.
This is the first NGS conference I've attended. In past years, they've conflicted with my husband's birthday. But the conference is a little bit later this year, and local, so there was not way I was going to miss it. I can't wait to experience the differences between NGS and RootsTech (and the SCGS Jamboree I'll be attending in June).
I love genealogy conferences because of the learning opportunities and the motivation it gives me. And I love being around people who are knowledgeable and passionate about genealogy. I feel so fortunate to have this year's conference practically in my back yard.
If you're planning to attend, please let me know and maybe we can meet up!